July 2017
The Dr. Joy Show
Marcia talks about her multiple passions in an interview on Princeton Community Television
May 2017
Trailblazing Women in the Mad Men Era
NYCityWoman's Dorrie Olds talks with Marcia Gloster and others about discrimination in the 1960s
Fran Lewis: Blog Talk Radio
Fran Lewis interviews Marcia Gloster
Watchung Booksellers to host May 10 book event with Marcia Gloster
Marcia Gloster to read from and discuss her new novel, I Love You Today
April 2017
Verona Neighbors
Q+A with local author Marcia Gloster
Books Direct
Blog Tour for Marcia Gloster's new novel, I Love You Today, kicks off
Verona author channels 1960s culture in new book
NorthJersey.com interviews Marcia Gloster
May 2016
Sexism in Advertising: From 'Mad Men' to Today
New York Times prints Letter to the Editor by Marcia Gloster Ammeen
February 2015
31 Days (And Counting) A Memoir of Seduction and the Woman Who Lived It
GALO Magazine interviews Marcia Gloster Ammeen
November 2014
National Association of Women Artists to host Marcia Gloster Ammeen
Meet the Author at N.A.W.A. Gallery in NYC on December 11
October 2014
The Extract: 31 Days, A Memoir of Seduction
Harper Bazaar UK excerpts Marcia Gloster's new book
The Staying Young Show: Music and Your Brain
Interviews with Dr. Galina Mindlin and Marcia Gloster (~begins at 27 min.)
Grand Magazine Interviews Marcia Gloster and Dr. Galina Mindlin
How music and memory led to the making of a memoir

Scarsdale Alumni Association October News
Marcia Gloster Ammeen (SHS ´60) and her new book 31 Days: A Memoir of Seduction
September 2014
Memoir of Seduction in Salzburg Hits Shelves
Artist and author Marcia Gloster Ammeen recounts her 'Story of Seduction' 50 years later
Author Marcia Gloster Releases First Book
Music unlocks memories and reawakens creative process for artist and author Marcia Gloster
August 2014
Watchung Booksellers to host September book event with Marcia Gloster
Marcia Gloster to read from and discuss her debut memoir, 31 Days: A Memoir of Seduction
July 2014
The Story Plant announces debut title by Marcia Gloster
Marcia Gloster's memoir, 31 Days, is announced by her publisher.

June 2014
Rhode Island School of Design's XYZ Magazine features painting by alumna Marcia Gloster in Spring/Summer 2014 issue.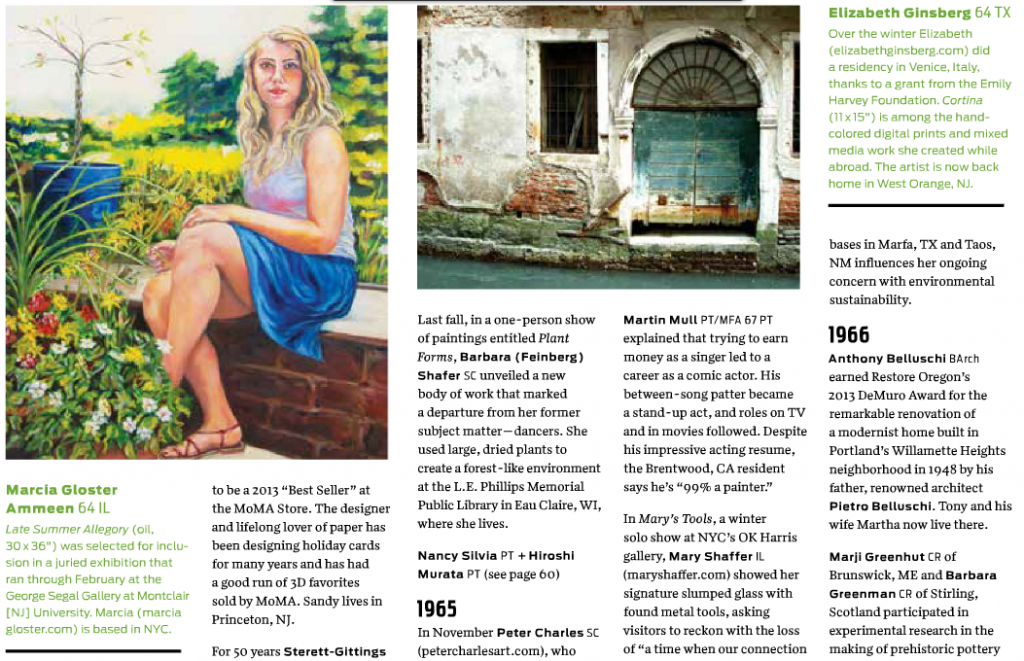 May 2014
The Impact of Emotions: A Session with Marcia Gloster
For AuthorsFirst, a new site for writers, the author of 31 Days: A Memoir of Seduction shares her tips on using emotion to bring readers into characters' innermost lives.

February 2014
Long-held Secrets Unlock Talents for Artist and Writer Marcia Ammeen
North Jersey Woman features Marcia Gloster Ammeen in winter issue (click link above to read story)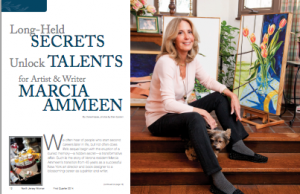 October 2013
Zara Phillips Interviews Marcia Gloster Ammeen on Arts Up Close
Arts Up Close host Zara Phillips interviews artist-turned-author Marcia Gloster Ammeen for Montclair (NJ) TV34.

September 2013
Marcia Gloster Ammeen Features New Works at Two Exhibitions
Two juried shows—one in New York City, and one in Florham Park, New Jersey—are featuring new works by Marcia Gloster Ammeen this month.

August 2013
Verona artist Marcia Gloster Ammeen rediscovers lost passion
A feature on Marcia Gloster Ammeen, and how the memory of a summer love affair during her art school days re-ignited her passion for painting and inspired a memoir. In the Verona-Cedar Grove Times (NJ), August 8, 2013.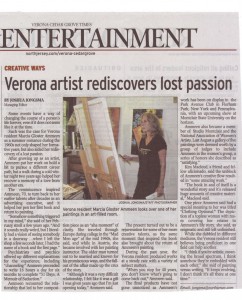 July 2013
Marcia Gloster Ammeen selected as N.A.W.A. featured artist
Marcia Gloster Ammeen is one of 59 artists exhibiting in the "Clothing Optional" Small Works Exhibition at the N.A.W.A. Gallery in New York City, July 11 – August 28, 2013. The gallery is located at 80 Fifth Avenue, Suite 1405, New York, NY.